Beside the well there was a ruin of an old stone wall. When I came back from my work the next evening, I saw the little prince from some distance. He was sitting on top of the wall. His legs were hanging in the air. He was talking to someone.
"Don't you remember?" he said. "This is not exactly the place."
Another voice must have answered him because he replied to it, "Yes, yes, this is the right day, but it's not the right place."
I continued my walk toward the wall. I still couldn't see or hear anyone. However, the little prince replied again, "Sure. You will see where my footprints begin in the sand. You just have to follow me to that place. I'll be there tonight. I'll be waiting for you.
I was twenty meters from the wall and I still couldn't see anything. The little prince spoke again, after a pause. "Have you got good poison? Are you sure it won't make me suffer too long?"
I stopped. My heart was beating strongly, but I still didn't understand.
"Now go away," said the little prince. "I want to get down from the wall".
Then I looked down at the bottom of the wall, and I was shocked.
There was one of those yellow snakes that can kill you in thirty seconds.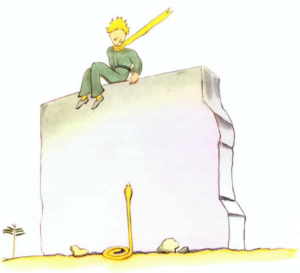 I was going to take my revolver out, but when I was trying to reach it, I also made a step back. The snake heard it. He started to move and quickly disappeared among the stones. I still heard him but he was no longer visible.
I reached the wall just in time to catch my little prince in my arms. His face was as white as snow.
"What's going on here?" I wanted to know. "Why are you talking with snakes?"
He looked at me. His eyes were sad. He put his arms around my neck. I felt his heart beating like the heart of a dying bird, shot with some gun.
He said to me, "I'm glad you have found what the problem with your plane was. Now you can go home."
"How do you know that?"
I was just coming to tell him that my work was successful.
He didn't answer my question, but he said, "I'm going back home today, too. It's much further. It's much more difficult. I need somebody's help for my journey."